In 2017 on Armistice day I wrote of Corporal Aitken, a former resident of my house who gave his life at the Battle of Loos in the Great War.
Glasgow honoured all its fallen in a Roll of Honour published in 1922, and from this I put together a Roll of Honour for Strathbungo, published on Armistice Day in 2019, 101 years after the war ended.
For World War 2, VE Day marked Victory in Europe on 8th May 1945, and so for the 75th anniversay of VE Day I have compiled the Roll of Honour for Strathbungo's fallen of WW2. The following is a list of those linked to Strathbungo who gave their lives, sorted by their address. Click on their names or scroll down further for a more detailed biography of each.
Strathbungo's Roll of Honour
Archibald Kay
Able Seaman
Service Number P/JX 308909
Died 11/12/1942
Aged 21
H.M.S. Blean, Royal Navy.
Son of Archibald and Nora F. Kay, of Glasgow.
Portsmouth Naval Memorial.
Listed as missing presumed killed.

HMS Blean was the shortest lived of the Hunt class Destroyers, commissioned in August 1942.
After working up at Scapa Flow followed by some repairs on the Thames she escorted a convoy to Gibraltar, arriving on 2 November 1942. She then joined the 58th Destroyer Division escorting Operation Torch convoys. While escorting the British convoy MKF-4 off the Algerian coast, Blean was torpedoed by U-443 on 11 December 1942 11 miles (18 km) north-west of Oran. The U-boat aimed one torpedo against her and then one against the convoy, but both hit Blean and she sank within four minutes with the loss of 89 men, although half the crew survived. U-443 was itself depth charged and sunk in the Mediterranean on 23 February 1943 with the loss of all hands.
A memorial to her was unveiled in the church of St. Cosmus and St. Damian in the village of Blean on 10 December 2006.
Hamish Barrowman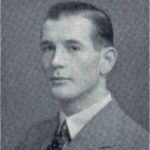 Major
Service Number 153868
Died 23/07/1945
Aged 28
Royal Army Medical Corps
Son of James and Annie McFarlane Barrowman; husband of Margaret Isabella Barrowman (nee Yuille), of Glasgow. M.B., Ch.B., D.P.H. (Glasgow). He lived with his wife at 5 Marywood Square.
Kirkee War Cemetery, near Pune in Maharashtra, India.
The University of Glasgow notes:
Hamish Barrowman was born in Hartley, South Rhodesia, modern day Chegutu in Zimbabwe, son of James Barrowman, an Advertising Agent. He came to the University in 1934 to study Medicine, graduating MB ChB in 1939 and DPH in 1940.
He is also remembered on the memorials at the Scout Hall, Arthurlie Drive, and Orchardhill Parish Church, in Giffnock.
Norman Russell Warren
Major
Service Number 67384
Died 19/01/1945
Aged 32
Cameronians (Scottish Rifles)
Sittard War Cemetery
Son of Charles Law Warren and Annie Warren, of Glasgow; husband of Marie Evelyne Warren (nee Campbell), of Glasgow.
The burials in the cemetery are almost all from the months of January and February 1945. The men buried here belong mostly to the Scottish regiments of the 52nd (Lowland) Division, engaged in the battle in this vicinity from 18th to 24th January 1945, which had as its object the clearing of a salient west of the River Roer which was still held by the Germans. There are now over 230 1939-1945 War casualties commemorated in this site.
Warren was probably killed during Operation Blackcock, to clear the Roer triangle of German forces . He is remembered on the Glasgow Academy WW2 memorial.
Sydney Cohen
Warrant Officer
Possibly:
Service Number 1383528
Died 27/08/1946
Royal Air Force Volunteer Reserve
Alamein Memorial
While this Sidney Cohen has a fascinating history, he was an East London orphan with no obvious link to Glasgow, and is presumably not our man. However I can find no record of another, and it's a great story.
He famously landed his struggling Swordfish biplane on the Island of Lampedusa in the Mediterranean Sea. The Italian contingent promptly came over and offered their surrender, which he took and flew back to base, though not before being shot up by Allied fighters as he prepared to take off. He became known as the King of Lampedusa, and even had a play written in his honour.
He went missing on 27 August 1946 on a ferry flight from the Middle East, believed crashed into The South-Western Approaches of the English Channel, off the coast of Cornwall. Aircraft was on charge of 160 MU, RAF Aquir, Palestine, en route to RAF St. Eval, Cornwall.
George Harold Norton
Squadron Leader
Service Number 89308
Died 13/07/1943
Aged 25
112 Sqdn. Royal Air Force
Malta Memorial
Son of Morris L. Norton, and of A. Dorothy Norton (nee Nicholson), of Glasgow.
He joined 112 Squadron on 17th May 1943, from 450 Squadron. On 13th July Squadron Leader Norton was hit by flak and killed when dive bombing enemy motor transport near Lentini in his Curtiss P40M Kittyhawk III GA-J, three days into the invasion of Sicily. Flt Sgt Fred Renshaw Vance was also killed on the same raid, the only squadron losses during the invasion.
Walter Norman Collins
Sergeant (Flight Mechanic)
Service Number 617140
Died 25/08/1941
35 Sqdn. Royal Air Force
32 Nithsdale Drive
Halifax L9572 was one of five No. 35 Squadron aircraft detailed to attack the Marshalling Yards at Dusseldorf on the night of 24th/25th August 1941. The aircraft failed to return and the seven crew members were declared missing, presumed dead. After the war they were re-interred at the Chievres Communal Cemetery in Belgium. The Nachtjagd Combat Archive suggests it was brought down by the German nightfighter pilot Oblt. Heinrich Griese.
The 35 squadron website also gives accounts of a previous crash when the same crew barely made it back from Berlin on the night of 12th/13th August.
Sergeant Collins appears twice in Glasgow Roll of Honour, presumably in error.
Frederick Alexander Goldie
Telegraphist
Service Number C/JX 616417
Died 18/01/1946
Aged 20
H.M.S. Anderson. Royal Navy
Son of Fred H. Goldie and M. A. Goldie, of Glasgow.
Colombo (Liveramentu) Cemetery
HMS Anderson was not a ship, but a Y (wireless interception) station, mostly staffed by ex Naval wireless telegraphists. It was established in Colombo in August 1943. The Far East Combined Bureau relocated back to Colombo about the same time and resumed its operations intercepting and decoding enemy communications, and the whole Bureau soon became known by the station name, HMS Anderson. The Bureau continued to operate from Ceylon for the remainder of the war. Frederick died of an unspecified illness.
James Cotland Robertson
(Recorded as James Copeland Robertson in the Glasgow Roll of Honour)
Sergeant (Wireless Op./Air Gunner)
Service Number 997198
Died 01/07/1941
149 Sqdn. Royal Air Force Volunteer Reserve
Plouzane Churchyard, near Brest
James died with his 5 crewmates when his Wellington 1C bomber R1408 OJ-J crashed in a field near Plouzane. He was on a raid on the night of 1/2 July with other aircraft from 149 Squadron to attack the battleships Scharnhorst, Prinz Eugen and Gneisenau in Brest harbour. Only a few weeks earlier Prinz Eugen had assisted Bismarck in sinking HMS Hood.
It is not clear what caused the crash. His was one of two Wellingtons lost in the raid, though not before one of them hit the Prinz Eugen causing significant damage, and keeping it out of action for 6 months.
The crew were buried in the local churchyard. The crash site was explored in 2006, and several bombs and other wreckage recovered.
Thomas McMurdo
Guardsman
Service Number 2695847
Died 30/05/1942
Aged 22
2nd Bn. Scots Guards
Knightsbridge War Cemetery, Acroma.
Known as "Tommy", son of George and Rebecca McMurdo, of Glasgow.
He died during the Battle of Gazala near Tobruk, Libya in May 1942. General Rommel attacked the allied forces, eventually forcing them back to Egypt, until he was halted in the first Battle of El Alamein in July.
George William Mcrae
Sergeant
Service Number 986400
Died 17/02/1942
Aged 22
Royal Air Force Volunteer Reserve
Glasgow Eastwood New Cemetery.
Son of John and Robina McRae, of Strathbungo, Glasgow; husband of Margaret McRae (nee Anderson).
George was a Wireless Operator and Air Gunner on board a training flight from Edgehill on 13 February on Wellington 1c bomber, R1082, of 21 Operational Training Unit. It stalled coming in to land at Wellesbourne Mountford after the port engine failed. Three crew died in the accident, while George died 4 days later. Two others survived the crash .
David Desmond Wilson
Sergeant (Air Gunner)
Service Number 1573648
Died 29/10/1944
Aged 20
582 Sqdn. Royal Air Force Volunteer Reserve
Runnymede Memorial.
Son of James McCall Wilson and Elizebeth Small Wilson, of Glasgow.
David and his seven crewmates were lost without trace in Lancaster III PB630, while on a bombing raid over the island of Walcheren, Netherlands. Of 358 aircraft in the attack, theirs was the only aircraft lost. They were from 582 Squadron, based at RAF Little Staughton.
The operation note read "Walcheren- to mark gun positions. 358 aircraft to attack 11 enemy positions. Visibility was good and all targets were considered to have been hit. 1 aircraft lost."
William Robert Melrose Oliver
Corporal
Service Number 2767158
Died 14/08/1944
Aged 21
5th Bn. Black Watch (Royal Highlanders)
Hermanville War Cemetery.
Son of John Melrose Oliver and Margaret Ann Oliver, of Glasgow.
Likely died in the fierce fighting around Caen after the Normandy landings. The Black Watch had an uneventful beach landing, but subsequently fought costly battles against SS Panzer divisions in the area.
William B. Gilchrist
Sergeant (Wireless Operator/Air Gunner)
Service Number 1370571
Died 13/08/1943
Aged 28
70 Sqdn. Royal Air Force Volunteer Reserve
Syracuse War Cemetery, Sicily.
Son of John and Sarah Brownlie Gilchrist; husband of Mary Ross Gilchrist, of Bexleyheath, Kent.
William and his crew were lost in Wellington bomber HZ427 on a raid over Sicily during the Sicily Invasion, and were listed as missing. They were operating at the time from Kairouan North/Temmar airfield in Tunisia. In the 1960s the Commonwealth War Graves Commission located the graves of two Wellington crews that had crashed near Syracuse on the same day, who had been hastily buried by locals. They were moved to the Syracuse War Cemetery .
Henry James Reid
Chief Officer
Died 05/05/1943
Aged 48
S.S. North Britain (Newcastle-on-Tyne)
Merchant Navy
Tower Hill Memorial.
Husband of Mary Reid, of Strathbungo, Glasgow.
S.S. North Britain was an armoured merchant ship built in South Shields in 1940.
At 02.22 hours on 5 May, 1943, the North Britain (Master John Lamsdale Bright), a straggler from convoy ONS-5 (about five miles behind), was hit by one of three torpedoes fired by U-707 and sank by the bow within two minutes south of Cape Farewell. The master, 27 crew members and seven gunners were lost. Ten crew members and one gunner were picked up by the HMS Northern Spray (FY 129) (Lt F.A.J. Downer) and landed at St.Johns.
Read more at wrecksite: https://www.wrecksite.eu/wreck.aspx?30845
A fuller description:
Cargo ship North Britain, 4,635grt, (North Shipping Co. Ltd) loaded with a part cargo of fire bricks and bagged fire clay at Glasgow bound for Halifax, Nova Scotia for orders joined the 42 ship Convoy ONS-5, which departed the Clyde on the 21st April 1943. On the 28th April the convoy was sighted by U-650 and one Merchant ship was sunk the following day. The message was then relayed to other U-boats and four wolf packs consisting of fifty-seven U-boats began to descend on the convoy. One ship was sunk on the 4th May, but the main attack began the following day. On the 5th May about 400 nautical miles East of Newfoundland having penetrated the convoy escort screen U-boats managed to sink eleven Merchant ships. During the attack on the 5th May, the North Britain had been straggling about five miles behind the main convoy with boiler trouble when intercepted and struck by one of three torpedoes from U-707. The ship immediately began to sink and within a few minutes disappeared in position 55' 08N 42' 43W taking thirty-one men with her. Struggling in heavy seas in one lifeboat and a raft, a further four men died from exposure before the eleven survivors were picked up by the naval trawler HMT Northern Spray and landed at St. John's, Newfoundland.
The battle for Convoy ONS-5 was believed to be the turning point of the Battle of the Atlantic, as the Germans lost six U-boats and a further seven damaged. In fact, in the weeks following this disaster, the Germans were unable to mount an attack on any other convoy but continued to suffer severe losses. Although Merchant shipping continued to be sunk up until the last day of the war in Europe, never again were the U-boats to have the same previous successes, which they referred to as the "happy time" and "second happy time" respectively.
https://www.merchant-navy.net/forum/requests-for-help/36168-ss-north-britain.html
William Leonard Primrose
Warrant Officer (Pilot)
Service Number 745378
Died 31/10/1942
Aged 22
Royal Air Force Volunteer Reserve
Glasgow Eastwood New Cemetery.
Son of Robert and Jessie Primrose, of Moray Park, Glasgow.
RAF Hixon, in Staffordshire, was the base of 30 Operational Training Unit, used to train Wellington crews for night bombing raids. The station's first fatal accident was when Wellington Ic Z1083 crashed on landing after a night bombing exercise on 30/31 October. The pilot, believing he was going to overshoot the short runway, decided to pull up and go round again. But the Wellington had lost too much airspeed and stalled at 500 feet, crashing at Grange Farm, Amerton, with the loss of all her crew. William was one of two pilots on board, amongst a crew of six.
Ian Mackenzie Small
Craftsman
Service Number 7944647
Died 03/09/1944
Aged 37
Royal Electrical and Mechanical Engineers
Bayeux War Cemetery.
Son of James and Jessie Campbell Small; husband of Alice Elma Barclay Small.
The circumstances of his death are unknown, although the fighting had moved on from Normandy by the time of his death.

Photo credit: John Wintle
Robert Kemp Dunbar
Captain
Service Number 187981
Died 21/12/1944
Aged 28
Royal Corps of Signals
Tervuren Communal Cemetery, east of Brussels.
Son of Robert Hugh Dunbar, and of Williamina Dunbar, of Killermont, Bearsden, Dunbartonshire. B.Sc. (Glasgow).
Robert Kemp Dunbar was born in Aberdeen on the 29th February 1916. He graduated BSc from the University of Glasgow in 1938.
Tervuren Cemetery only has two Commonwealth Graves, those of Captain Dunbar, and his driver, Frederick Phipps, both of the Royal Corps of Signals. The circumstances of their deaths are unknown.

Image credit: Wernervc, Wikimedia Commons
Duncan Ian Macphail Mackay
Lieutenant
Died 07/11/1943
Aged 22
3rd Madras Regiment
Rangoon Memorial
Son of the Revd. John Mackay, M.A., and Mary Mackay, of Glasgow.
An arts student of the University of Glasgow.
Rangoon Memorial commemorates nearly 27,000 Land Forces of the British Empire who died during the campaigns in Burma and who have no known grave.
Archibald Richardson
Trooper
Service Number 14504109
Died 20/07/1944
Aged 19
15th (Scottish) Regt. Reconnaissance Corps, R.A.C.
St Charles de Percy War Cemetery.
St Charles de Percy War Cemetery is the southernmost of the Normandy cemeteries. The majority of those buried here died in late July and early August 1944 in the major thrust made from Caumont l'Evente towards Vire, to drive a wedge between the German 7th Army and Panzer Group West. The cemetery contains 809 Second World War burials.
Jack Harris
Corporal
Service Number 13071506
Died 08/06/1944
Aged 30
267 Coy. Pioneer Corps
Bayeux War Cemetery.
Son of Barnet and Jennie Harris, of Glasgow.
Died two days after D-Day, in Normandy.
References
{3557955:D53X46I6};{3557955:KFE9NHQE};{3557955:VC3GWTEM};{3557955:ZVRSHLX3};{3557955:L46E9GC3};{3557955:K2NVB9VW};{3557955:NDCI7WWJ};{3557955:VUM3R273};{3557955:B5ML834Z};{3557955:KRL95M7B},{3557955:E2VS82VV};{3557955:IILS3EGC};{3557955:M3X42X4Q};{3557955:8ESM98JQ};{3557955:FJ4H7LEG},{3557955:QTW5YJJ8};{3557955:HQUH3TPP},{3557955:Z68P48CV}
vancouver
default
asc
no
2371
Image credit: Spitfire by Mark Harkin / CC BY (https://creativecommons.org/licenses/by/2.0)